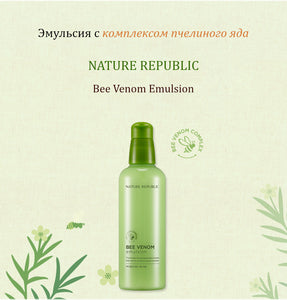 NATURE REPUBLIC Bee Venom Emulsion
▶
Manufacturer
: 
NATURE REPUBLIC
▶ Country of origin : Republic of Korea
▶ Major ingredients
: Bee Venom complex (0.72ppm), glacier water, Caesalpinia Sappan Bark Extract, tea tree leaf oil, camellia extract

▶ Product description 
: Control sebum and problem skin.
: Sooth sensitive red skin for clear healthy skin care. 
: Emulsion for sensitive skin to treat pores and dead skin
: Glacier water (minerals,active oxygen) protects skin from harmful environment.
: Non sticky moisture red fluid type
: Relieve stress and irritation, provides moisture for hydrated skin. 
: No addition of parabens, artificial flavor, artificial colors, mineral oil, sulfate-based surfactants, talc, benzophenone, triethanolamine 
▶ How to use
: After essence apply right amount onto face and neck, let it absorb. 
Product detail information
Skin Type

All skin 

Skin Troubles

Damaged skin, Moisturizing, Sebum, Pimple / Acne, Calm 

Age

All ages 

Season

Four seasons 

Effect • Efficacy

How to use

Please refer to the production description.

Instructions for use

If you have any symptoms described below when using this product, stop using the product.

If you keep using it, symptoms may get worse; therefore, consult with dermatologist.

1) If red blotch, skin irritation, and stimulation occur.

2) If applied spots have any symptoms mentioned above and are exposed to direct sunlight.

Do not use on spots with injury, eczema, or dermatitis.
Instructions for storage and handling

1) Close the cap after use.

2) Keep out of reach of infants and children.

3) Do not store in a place with high and low temperature and direct sunlight.

4) Do not use the product in a shaky place.

5) If it contacts with eyes, rinse with running water immediately.