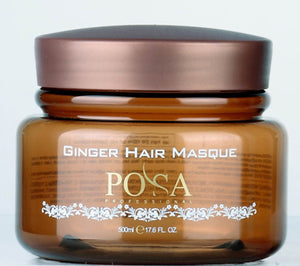 Posa Ginger Hair Masque
Posa brand ginger hair masque is enriched with natural hydrating botanical extracts to automatically adjust the natural moisturizing factor, replenish essential elements and restore your hair vitality. It not only seals in moisture and color, but also offers instant conditioning and nourishes your hair thoroughly. Our product is especially beneficial for damaged hair resulting from chemicals, sunshine, sea water and the like to restore resiliency, manageability and shine. Also, it contains antioxidants which can refresh your hair cuticle. You can feel secure when using it since having received GMPC and ISO certificates enables us to offer high quality hair masque set. It comes in 500ml plus10ml*4 per set .
Directions
Use towel to dry your hair after it is washed with purifying shampoo, and do not use conditioner when washing. Mix Ceramides extract with energy botanical hair treatment. Then apply the mixture to hair shaft and scalp, and leave it on for 2 to 3 minutes. Rinse your hair with water. Heat up with a warm dryer for 5 to 10 minutes to obtain extra benefits. Finally, use your styling products.